India considers the  Smart  Grid  as  integrating  the  electrical  and  information,  communication  technologies  in  the complete  power   system  value  chain  enabling  every  point  for  generation  and  every  point  as controllable consumption (of consumers). Ministry of Power (MoP) decided to develop Smart Grid in India in stages by taking up pilot Smart Grid projects. MoP set up the India Smart Grid Task Force (ISGTF) and India Smart Grid Forum (ISGF) to help prepare a roadmap for smart grid rollout. In August, the MoP adopted the roadmap. 14 smart grid pilots are been approved for immediate execution. Pilots will be evaluated for techno commercial benefits, technology evaluation and then scaled out into full projects.
The following are various functionalities being opted as part of the smart grid pilots in India.
AMI for Residential, Commercial and Industrial
Peak Load Management
Outage Management
Power Quality
Renewable Integration
Micro Grids
Distributed Generation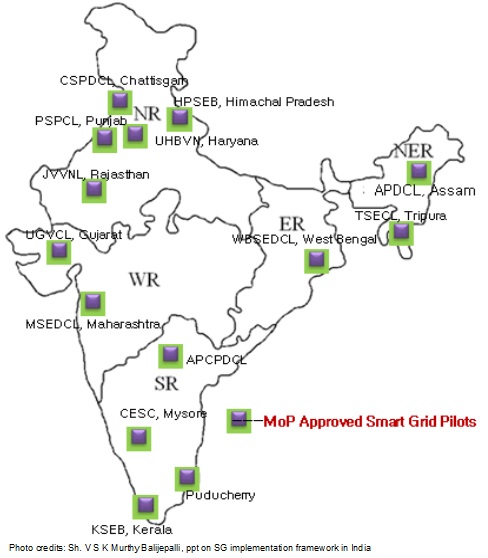 1.      UHBVN, Haryana
 Location:
Panipat City Subdivision (Haryana State)
 Project Summary:
The pilot project covers 31,914 consumers and distribution system of 531 DTs. The area has around 131.8 MU input energy consumption.  The proposed project area is covered under RAPDRP Scheme for IT implementation and system strengthening. The functionality of Peak load management is proposed by implementing Automated Metering Infrastructure (AMI) for Residential Consumers and Industrial Consumers.
Benefits:
–          Reduced AT&C Losses
–          Reduced Peak Load Consumption
–          Reduced Cost of Billing
Key Facts
| | |
| --- | --- |
| Project Type: | Smart Grid Pilot in Power Distribution Sector |
| Total cost of project: | Rs. 20.07 Cr |
| MoP Share: | Rs. 10.03 Cr |
| Funding Programme: | RAPDRP, Part-C |
| Project timeline: | 17 months |
| New Technology: | Model for ToU, Net metering, DR and DMS for PLM |
| Website: | http://www.uhbvn.com/ |

Loading ...
2.      CESC, Mysore
Location:
Additional City Area Division (ACAD), Mysore
Project Summary:
Project involves 21,824 consumers with a good mix of residential, commercial, industrial and agricultural consumers including 512 irrigation pump sets covering over 14 feeders and 473 distribution transformers and accounting for input energy of 151.89 MU. The functionalities of Peak load management, Outage Management are proposed by implementing Automated Metering Infrastructure (AMI) for Residential Consumers and Industrial Consumers and Integration to Distributed Generation / Micro Grid Integration. Committee also observed that some additional functionality like Agriculture DSM with community Portal, Consumer Portal to Support DSM/DR, Employee portal for Knowledge Sharing and Benefit realization, KPI based MIS and Data Analytics for decision Support are also proposed

Benefits:
–          Reduction in AT&C losses
–          Shifting of load in industrial and domestic consumer during peak hours
–          Reduction in number of transformer failure
–          Reduction in Meter Reading cost
–          Reduction in unforeseen outages and also recovery time for unforeseen outages
Key Facts
| | |
| --- | --- |
| Project Type: | Smart Grid Pilot in Power Distribution Sector |
| Total cost of project: | Rs.32.59 Cr |
| MoP Share: | Rs.16.30 Cr |
| Funding Programme: | RAPDRP, Part-C |
| Project timeline: | 12 months from the date of award to the Technology Partner. |
| New Technology: | Introduction of real time pricing signal by interfacing at SLDC level to get UI/ABT prices subject to regulatory consent. Implementation of Fault Location Isolation and System Restoration (FLISR) at feeders where alternate feeding arrangements are available, Distributed Energy Sources integration using already available technologies |
| Website: | http://www.cescmysore.org/ |
(Contd… – Page 2 | Page 3 | Page 4 | Page 5 | Page 6 | Page 7 | )
Comments
comments
Smart Grid Pilot Projects Under Execution in India (2013-2016)

,