(Prev… – Page 1)
V S K Murthy Balijepalli, IIT Bombay
Blackout-2:
The reason for this black-out can be a sudden load pick-up in NR during the afternoon which caused a overloading and subsequent cascade tripping of transmission ties with WR and ER. The NR not learning a lesson from the previous day black-out were again the culprit, committing the crime of overdrawing in a system which has just recovered a major black-out. Besides NR getting isolated from the rest of the NEW grid, over-speeding of generators in the ER and NER caused generators in these regions to trip resulting in a bigger black-out spreading across three regions affecting 22 Indian states (640 million people) altogether.
Download NLDC preliminary Report on blackout-2 (click here)–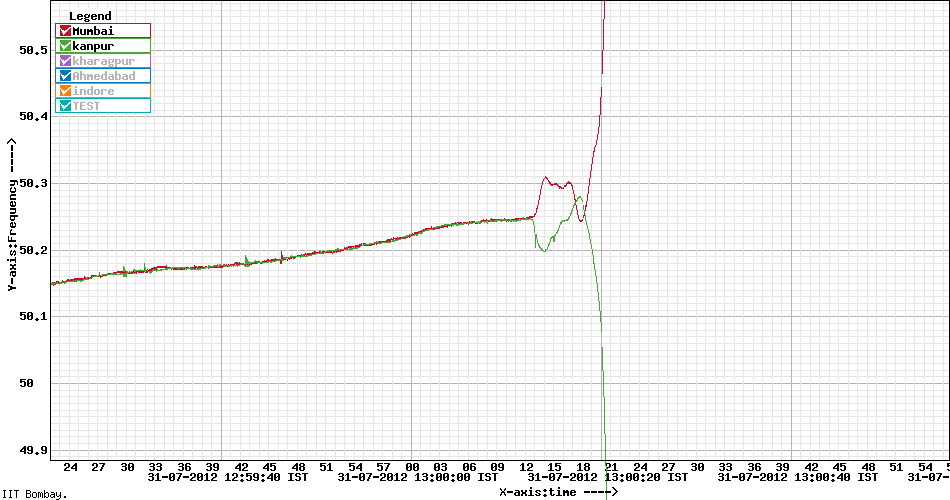 As per NLDC report, it has been confirmed that the blackout-2 happened to affect the entire NEW grid except the western region, part of the Delhi system, System through Strelite/IBTPS and CESC system.
Why only the Northern states in the NEW grid were affected?
WR is the only region in the NEW grid which has survived. Many of the experts in the internal Indian technical forums say that the survival is mere luck. However, when we thought on seriously for the reason, we have found some very interesting facts. We have recollected the discussions we had with Maharashtra state load dispatch center (comes under WR) in June'12.
Maharashtra is the main load center in the western region with more than 15GW load met on daily average basis and also a participant in the central ABT/UI mechanism. All the Indian states fall under the same model of central ABT/UI mechanism (i.e frequency linked structure) and some have envisaged to extend it to the intra-state level for the settlement of imbalances during the day of operation. However, the only state in the India happens to be Maharashtra in WR which has actually implemented a marginal cost based settlement for real-time imbalances (Intra ABT). Due to the marginal cost based settlement, the constituents (DISCOMS, captive power plants, independent power producers, etc.) in the Maharashtra state are discouraged from overdrawing the free power during the high grid frequency periods (>50.2Hz). If they overdraw during those periods, the state will penalize them indirectly by making them pay the merit order based marginal cost prevailing at that point of time.
DesiSmartGrid believes that this might be the prime reason that has helped the WR not to overdraw during those critical times of the grid and made grid remain secure. We confirmed this outcome after studying the states UI schedule/drawl behaviour before & after the blackouts.
Some Useful Links:
Primary Response related (click here)
Frequency support Ancillary Service related (click here)
Operational constraint related
(In the Part-2 of this story, we shall provide a critical review of the situations and thus come-up with the requirements of the Indian grid in order to cope with such situations in future)
V S K Murthy Balijepalli, IIT Bombay
Comments
comments
Part-1: India Power Grid Blackouts- An Insight Into The Curious Case

,
Pages: 1 2