Most of our subscribers are inquiring about the detailed information on functioning of the India Smart Grid Forum (ISGF) and India Smart Grid Task Force (ISGTF). This story is dedicated to the audience who would like to know the functioning of the Smart Grid working groups in India. The national level smart grid bodies in India are ISGF and ISGTF.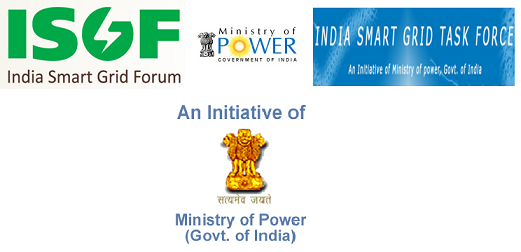 ISGTF is an inter-ministerial group and serving as the government focal point for activities related to SMART GRID (an inter-governmental  body), chaired by Mr.Sam Pitroda, Advisor to the Prime Minister of India
    ISGTF has 5 Working Groups-
WG1: Pilots on New Technologies
WG2: Loss Reduction & Analysis
WG3: Power to Rural/Urban Areas
WG4: Distributed Generation & Renewables
WG5: Cyber Security
The main functions of ISGTF pertaining to Smart Grid are:
To ensure awareness, coordination and integration of diverse activities related to Smart Grid Technologies, practices and services including but not limited to:
>Smart Grid Research and Development
>Development of widely accepted Smart Grid standards and protocols
>Relationship of Smart Grid technologies and practices
>Electric utility regulation
>Infrastructure development, reliability and security
>Other faces of electricity supply, demand, T&D  and policy.
Coordination and integration of other relevant inter-governmental activities.
Collaborate on interoperability framework
Review & validate recommendations from India Smart Grid Forum etc.
ISGF is a non-profit, public-private partnership initiative of the Ministry of Power (MoP), Government of India for accelerated development and deployment of smart grid technologies in the Indian power sector. Shri. Reji Kumar is the CEO of ISGF, since the time it was launched along with ISGTF. Forum is treated as the voice of Product/Service Vendors in the Indian Smart Grid areana.

Objectives of ISGF:
1. Voluntary public-private consortium of Govt agencies, utilities, technology and service providers, regulators, research & academia and other stake holders
Govt. of India (MoP) is the Patron, and retains Chairmanship
Registered as a Society under the Indian Societies Act as a not-for profit organization
Enrolled members, and conducted elections to choose the management team in Oct 2011
As of 31st March 2012 ISGF has 75 members (11 requests pending)
2. Prime objective is to accelerate the development of Smart Grid technologies in Indian Power Sector
ISGF recommendations is advisory in nature
3. Seeks the best practices in the world and help develop a roadmap for development of Smart Grid solutions for Indian needs and conditions
Structure of ISGF:
> Funding of ISGF is currently from membership fees
Seed funding of the ISGF by Ministry of Power (~USD 100K)
> Governance of ISGF is overseen by Board of Governors comprised of – Industry (4 seats), Utilities (2 seats), Research/Academia (1 seat) with a term of 2 years, elected through voting process regulated by ISGTF representatives
> Category of Members:
Founding Members: MoP, PFC, CEA, CERC, CPRI, BEE – enjoy voting rights
Regular Members: enjoy voting rights, representation in 4 Working Groups (WGs)
Utilities: Rs 10 Lakhs life time fee OR Rs 3 Lakhs Joining Fee + Annual Fee ; 50% discount for utilities from special category states – NE, Sikhim, Uttarakhand, HP, J&K and UTs
Industry: Rs 5 lakhs Joining Fee + Annual Fee
Associate Members: Non-Profit/Educational & Research entities – no fee; no voting rights; by invitation for a period of 2 years; representation in 2 WGs
Limited Members: Rs 1.5 lakhs/Year – for smaller entities with revenues under INR 5 crore; no voting rights; representation in 2 WGs
Individual Members: Rs 50,000/Year – for eminent persons by invitation; enjoy voting right and representation in 2 WGs
International Members: Entities having no presence in India; more as Observers; USD 11000/year. No voting rights
Working Groups of ISGF:
WG1: Advanced Transmission
WG2: Advanced Distribution
WG3: Communications
WG4: Metering
WG5: Load Control
WG6: Regulatory & Policy
WG7: Architecture & Design
WG8: Pilots and Business Models
WG9: Renewables and Microgrids
WG10: Cyber Security
Information Flow Diagram: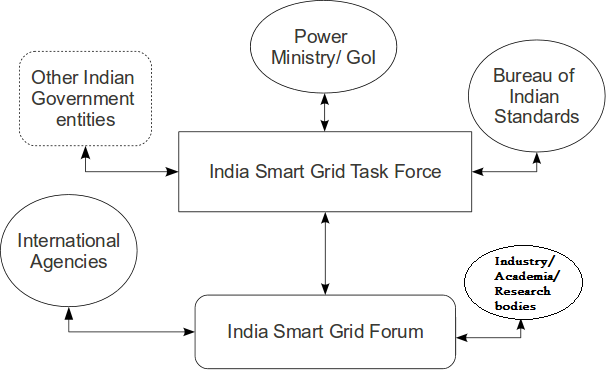 Comments
comments
India Smart Grid Forum (ISGF) and India Smart Grid Task Force (ISGTF)

,