Proposed smart grid reference architecture for the implementation-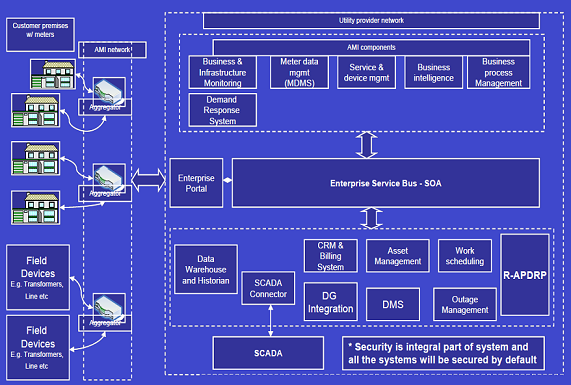 Rupees 20.04 million aid has also been received from the US Trade and Development Agency to implement the Smart Grid in Electronic City. As part of this project, a total of 17,000 smart meters are installed. The project seems to be in a mid-way since April 2011, when BESCOM was scheduled to appoint smart grid consultants.
What is the current status?
BESCOM is in the process of introducing two types of smart meters, one with pre-paid capabilities and other, the usual post-paid meter. One of the biggest advantages of smart meters compared to the regular static ones is the option of 'prepaid mode of payment', thus, consumers will be able to pay their bills and even post messages through this device. Smart meters can limit consumption and, when used effectively, can put an end to load shedding. Each meter will have the maximum limit automatically and when the load exceeds, the meter will shut down. When the consumer reduces the load, the meter starts running automatically. At present, BESCOM have also access to the geographic information system (GIS) of the consumers. Besides assisting the BESCOM in bringing down its load, these smart meters will also help BESCOM to continue its efforts on bringing the smart grid, which is still in the pre-mature stages.
BESCOM is also providing a consumer interface unit (CIU), which can be effectively used by the consumer to monitor each one of the appliances for power consumption. The CIU displays power consumed in real time. If a TV is switched on, you will get to know the additional load. Consumers become conscious of their consumption. A study of IIT Bombay researchers have shown that smart meters can help consumers to reduce their bills by 18 to 22 percent.
DesiSmartGrid Pointers:
In July 2011, India Smart Grid Task Force (ISGTF) has announced officially about the sanction of Eight smart grid pilots  worth Rupees 6 billion, and among them now PGCIL Pondicherry project is only under active state. So, where are we heading?
As smart grid is a continuous process of innovating in developing and implementing the various technologies for transforming the existing grid, it is essential for the energy utilities to involve and encourage researchers on the pilots by providing them open-platforms to work. Energy utilities should throw challenges through national wide competitions on the defined problems, where the researchers and industry can come together for providing innovative solutions.
Comments
comments
A Compact Review on India's First Smart Grid Pilot

,