Bangalore Electricity Supply Company's (BESCOM) is the first power distribution utility in India to initiate the testing of Smart Grid technologies. It has come up with a proposal for Smart Grid pilot in the year 2009. The project is supported by Ministry of Power, Government of India (GoI) and the United States Agency for International Assistance (USAID). Central Power Research Institute (CPRI), which has been appointed as a consultant for the project, and they have carried out the feasibility study along with the International Partner.

About BESCOM:
Customers – 7.32 Million

Revenue Demand- Rs. 69550 million

Revenue Collection – Rs. 68570 million

Distribution Transformers – 138595

HT line- 68692 ckt km

LT line – 143544 ckt km

Distribution losses – 15.23%

AT & C Losses – 17.39%
What did consultants suggest for the pilot? 
Five Potential Sites for Smart Grid Pilot Studied based on the consumer spread; Domestic, Commercial, Agriculture, Industrial, Public Water works, HT Industrial are the various consumer categories-
Electronic City
EPIP –Whitefield
Peenya Industrial Area
MG and Brigade Road Area
Rajaji Nagar Industrial Area
Overview of the Sites-
Substations = 1 – 3 of each
No. of feeders = 9 – 34
No. of DTR = 50 – 200
No. of Consumers = 13000 – 19000
Meters = EM / Static
Connected load = 9 – 180 MW
Energy = 2 – 72 MU
Captive (kVA) = 2000 – 86000
Renewables = NA
Electronic city has been chosen has the best among the studied sites based on the assessment of consumer participation.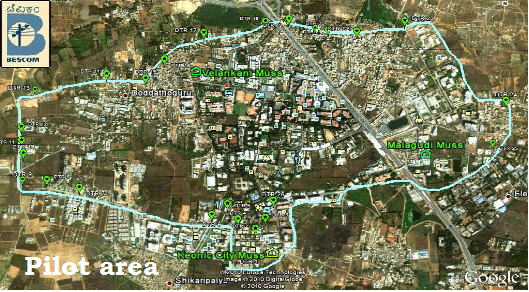 Overview of Electronic city project area-
Substations = 3
No. of feeders = 34
No. of DTR = 186
No. of Consumers = 19441
Metered = 19399
Meters = EM / Static
Sanctioned load = 121 MW
Energy – input = 290 MU
Energy – consumed = 278 MU
Captive = 86000 kVA
Renwables = NA
(Contd… – Page 2 | Page 3 | Page 4 | )
Comments
comments
A Compact Review on India's First Smart Grid Pilot

,