Lihui Xu, Jochen Alleyne
Even though 2012 is the second year of the second stage of China's smart grid development plan, the questioning from heavy weight industry experts about China's smart grid roadmap, especially its core project – Ultra High Voltage (UHV) transmission projects, has never stopped.
Strong Smart Grid
The difference between China's smart grid and other countries is that State Grid Corporation of China (SGCC) defined ultra high voltage (UHV) as principal to the smart grid, named it as "strong" and then named China's Strong Smart Grid roadmap.
SGCC released China's Strong Smart Grid roadmap in July 2009, with three stages as shown below:
Stage 1 (2009-2010) – planning and pilot phase
Stage 2 (2011-2015) – full construction phase
Stage 3 (2016-2020) – leading and enhancing phase
Currently, SGCC is aggressively deploying the construction of UHV projects in China. This has lead to questioning from industry experts who have strongly oppose UHV development since the first stage of China's smart grid plan.
In January 2009, China's first 1,000KV Ultra High Voltage Alternating Current (UHV AC) pilot project completed its one year safety operation.  The project is named "Jindongnan-Nanyang-Jinmen 1000KV UHV AC Pilot Project". [1]
In July 2010, the project named "Xiangjiaba-Shanghai +/-800KV UHV DC pilot project" [2], China's first 800KV Ultra High Voltage Direct Current (UHV DC) pilot project, was put in operation.
The extra five UHV AC and two UHV DC transmission lines are awaiting approval from the National Development and Reform Commission (NDRC) since last year.
SGCC repeatedly has said that they have made a breakthrough in UHV technical problems and that a relatively stable high-voltage transmission capacity can be reached. However Chinese industry experts believe that the actual situation is not as optimistic as the State Grid states.
The industry experts including Dingzhong Meng (former professor level senior engineer of the Ministry of Electric Power and Committee Member of the International Council on Large Electric Systems and IEEE), Gongyang Ding (former director of the Electric Power Planning & Engineering Institute and consultant for State Grid Construction Corporation), Jingru Wu (former director of planning for the department of Ministry of Water Conservancy & Electric Power), and Shaojun Jiang (former deputy general manager of the State Grid Construction Corporation), are typical representatives of the opposition. They pointed out the following three reasons to oppose a UHV based strong smart grid roadmap for China.
First, the UHV technology is not mature enough. In the last century, after nine years of running in Russia and extensive testing in Japan, the United States, Italy and other countries, UHV technology is no longer employed in their power grids.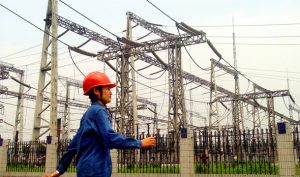 Second, connecting regional power grids by UHV transmission line has a high risk of leading to national blackouts. Currently, the international trend of the electric power industry is to narrow the scope of grid synchronized operations in order to increase the safety of the power grid.
Third, the longer UHV transmission line with such high voltage would cause a higher construction cost. Furthermore, the electricity transmission loss and resistance would be increased if the length of UHV transmission line exceeds a certain distance. In fact, it is not cost-effective to use UHV long-distance power transmission.
In China, the purpose of developing UHV transmission lines was due to an imbalanced energy supply and energy consumption structure. China's energy structure is dominated by coal resources. Seventy-six percent of coal resources in China are located in Shanxi, Inner Mongolia, Shaanxi, Xinjiang and other northern and western regions while energy consumption needs are mainly concentrated in the economically developed eastern region. In order to meet the continued growth in electricity demand and to solve coal transportation problems, SGCC relies on UHV to implement large-capacity and long-distance power transmission in China. Therefore, SGCC takes UHV as the main feature of his strong smart grid roadmap.
But SGCC's UHV project forecasts have so far been far from reality. Based on SGCC's announcement, the UHV transmission capacity could reach 5 million kilowatts. However, it has only reached 2.83 kilowatts which was much lower than the design standard.  Furthermore, the time for UHV to flow on the transmission lines only reached 1-2 seconds, which is also less then the design specified. Take China's first 1,0000KV UHV AC pilot project as an example. In order to boost UHV transmission capacity and keep a voltage of 1,0000KV flowing for a long time and avoiding unexpected voltage drops at the end site, a lot of extra 750KV and 500KV booster stations have been built. The project starts from Changzhi in Shanxi Province, passes Nanyang in Henan Province and then ends at Jingmen in Hubei Province. The total length of the transmission line is 653.8 kilometers. This project's investment reached over RMB 5 billion (about US$ 793 million) over three years.
In the eyes of the critics, the pilot projects costs have ballooned due to problems with reduced transmission capacity. In order to maintain grid safety, the actual operational transmission capacity was limited to 1-2 million kilowatts. To use a highway analogy, the highway designed for a 500 km/h top speed only acquired a maximum top speed of 283 km/h. However, this 283 km/h is not stable so for safety purposes the maximum has been reduced to 100-150 km/h.
At present, most of China's long-distance power transmission lines are 500KV DC/AC, which is as same as other countries.  Recognized in the industry, 600km transmission line with 500KV is an economical transport distance. The experts noted that beyond this standard, power line losses would be increased and transmission capacity would decline.
Regardless of the objections, SGCC continues preparations to build a national power network through UHV transmission lines synchronizing the regional grids of North China, East China and Central China and then to form an UHV Synchronized Grid by 2015.
The objectors criticized SGCC saying that it does not consider the economic rationality of UHV in order to monopolize China's smart grid market.
Therefore, another option of a distributed smart grid is considered for China's smart grid roadmap.
Distributed Smart Grid
In 2010, the National Energy Administration announced the development of a  distributed energy system. During the "12th Five-Year Plan" period (2011-2015), China will vigorously develop a distributed smart grid system.
The industry experts told SGT Research that the "Chinese government may be more inclined to develop the demand-side of clean, efficient and distributed smart grid."
The National Energy Research Institute participating in the US-China smart grid research project is an example. The project of the China-US Smart Grid Research Initiative has been started already, which is led by the National Energy Research Institute of National Development and Reform Commission. The project focuses on clean, efficient, distributed demand-side smart grid system.
Guobao Zhang, former deputy director of the National Development and Reform Commission and former director of National Energy Administration said that, "We believe that the smart grid should be clean, efficient, distributed power grid, but there are different points."
Jiandong Wu, director of the smart energy research department of China International Economic Exchange Center proposed that China should vigorously promote a superconducting power grid instead of UHV transmission.
"In fact, the most critical problem that should be solved is how to connect renewable energy sources into the grid ", Zhaoguang Hu, director of State Power Economic Research Center said that, renewable energy connection and energy storage problems have been a headache for SGCC.
While smart meters have been applied massively in some countries, a distributed smart grid, as a whole, is still in the phase of frame construction and technical R&D in China.
In China, the existing electric power system and the operation model of electric power enterprises don't support the development of a distributed smart grid. Within the existing electric power regulation framework, it's still not clear which elements will stimulate power grid enterprises to participate zealously in the construction of a distributed smart grid.
The US was the first country to suggest the concept of a smart grid. America's smart grid mainly consists of a distributed energy system, which is a valuable reference for China.
Recently, the National Energy Administration in Beijing held a seminar of "distributed generation management regulation". The meeting concluded that distributed generation facilities should be installed close to energy consumption sites in order to take full advantage of renewable energy and to achieve energy conservation and emissions reduction objectives. The regulation is expected to be released in the fist half of this year.
In addition, the residential time-of-use electricity rates will be deployed in the first half of this year, noted Sen Peng, deputy director of National Development and Reform Commission.
China's distributed smart gridis still in the starting phase.
—————————————————————————————
Where is the Road map for Indian Smart Grids? Is the still smart grid a vision for India?
Follow Desi Smart Grid for the upcoming research article on Indian Smart Grid roadmap! 
Comments
comments
Strong Smart Grid Vs. Distributed Smart Grid - The Dispute of China's Smart Grid Roadmap

,