As one of the world's fastest-growing economies, India's incredible growth has created an intense appetite for energy that the country is hard-pressed to meet. Blackouts are common in many parts of the country and large industrial operations will often build their own power plants to ensure a reliable supply of electricity. In fact, a Research and Markets report suggests India is "steadily moving towards a stressful period of energy crisis."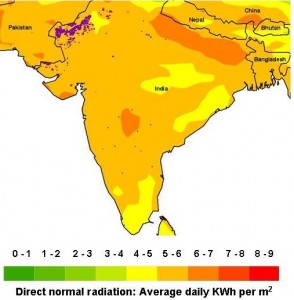 India currently relies on coal for about 40% of its total energy consumption, oil for about 24%, and natural gas for 6%, according to the International Energy Agency. But the country is looking beyond fossil fuels to turn around its energy deficit.
After the crisis at Japan's Fukushima Daiichi nuclear power plant, the Indian government's plan to build what would be the world's largest nuclear plant at Jaitapur – a fishing and agricultural area prone to seismic activity – has led to violent opposition. But with the blackouts being common in many parts of the country, observers don't expect India to abandon nuclear power.
On the other hand, the country is embracing renewables – by some accounts, India could be the next hot solar market. Recently, just this week the Wall Street Journal reported that the Indian unit of Spain's big wind turbine manufacturer, Gamesa, received a $2 billion order to build 2,000 megawatts of wind power projects in India.
Across the globe, different countries have different priorities when envisaging a smart grid. In India, for example, the priority is on reducing the amount of electricity being stolen through illegal connections, while in the United States the emphasis is on creating a more efficient system and in Europe power utilities are looking for better ways to integrate sources of renewable energy into their bouquet of energy sources.
(Courtesy: Smart Grid News)
Comments
comments