Are you aware of the new Free Cloud Platform Based Smart Energy Applications developed by IIT Bombay Researchers? The best new apps that help utility customers make the most out of their Green Button electricity usage data is the heart of most of the Smart Grid pilots.
What is a Green Button?
Green Button is an open standard for sharing electricity data that is available to millions of utility customers, so mash it up with other public data sources to help homeowners and businesses take action, understand their usage and make better-informed decisions.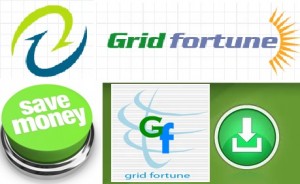 IIT researchers developed a set of cloud-based web applications under the name of "Grid Fortune" to analyze the green button data of end-consumers for free. The Grid Fortune web service is conforming to the NIST smart grid standards and is useful to 27 million end-users who have their energy consumption details. The features of the application are critical for the analysis of energy usage, interactive forecasting of energy usage, recommending measures to manage peak usage (using various robust optimization techniques), recommending renewable installations at households and industry level, and has many more innovative features.
Grid Fortune has been promoted by the Department of Energy (DOE), US, through energy apps challenge competition. The web-based app is technically validated by DOE and now open for public voting.
"Grid Fortune Application is built on the idea that analysis of Green Button data can be more intuitive, innovative, efficient, and useful for the consumers in saving the electricity," as said by V S K Murthy Balijepalli, lead researcher at IIT, who floated the concept of Grid Fortune.
Grid Fortune is the only entry from India and available for free use –
——————————————————————————————–
——————————————————————————————–
Comments
comments
IIT Bombay Researchers Free Cloud Platform Based Smart Energy Applications

,