India will invest substantially in the following in the near future:  
Advanced metering to reduce AT&C (Aggregate Technical and Commercial) losses that are currently at high levels.
Automation to measure and control the flow of power to/from consumers on a near real-time basis and improve the system reliability.
Moving to a smart grid to manage loads, congestion and shortfall in an intelligent manner.
The Indian electricity sector faces many problems in trying to meet the ever increasing demand-supply gap. Energy losses in India's transmission and distribution sector exceed 30%, which is one of the highest in the world. India's Ministry of Power estimates that about half of the electricity in the country is billed. The financial impact of technical and commercial losses has been estimated at 1.5% of GDP. Upgrading out-of-date transmission and distribution systems coupled with the need to reduce electricity losses and theft is driving the deployment of smart grid technologies in India. "Engaging active Demand Response and Demand-Side Management will form the key to successful implementation of smart grid in India," said V S K Murthy Balijepalli, active Smart Grid researcher and author of the first international publication on Indian smart grids.
The electricity industry in India is expected to undergo a paradigm change, fuelled by legislative and regulatory activities. The real challenge in the power sector in India lies in managing the upgrading of the transmission, distribution and metering sector efficiently. In response to these challenges, the Ministry of Power has set up the India Smart Grid Forum as a public-private partnership, bringing in utilities, industry, and academia.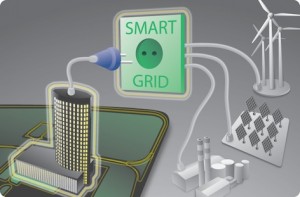 Government-led initiatives within the sector
Sam Pitroda, Advisor to Prime Minister on Public Information Infrastructure and Innovation and Chairman of India Smart Grid Task Force, recently announced at the press conference that Eight Smart Grid Pilots worth Rupees 6 billion will be taken up in next 18 months all over India. The Bangalore Electricity Supply Company (BESCOM) is working on a smart grid pilot project.India Smart Grid Task Force (ISGTF), Which is the government advisory task force, has suggested that Bureau of Indian Standards (BIS) develop Smart Grid Standards.The Government of India has also devised a scheme which is called the Restructured Accelerated Power Development and Reforms Programme to address the strengthening & upgrading of the Indian transmission and distribution network. The program calls for an investment of US $ 10 billion over a five-year span.
Challenges and bottlenecks
There is a general consensus that existing electricity grids in India are not sufficient in terms of capacity, efficiency, reliability, security, and environmental impact to supply the electrical power needs of modern societies. Further, because of growing environmental concerns, the Indian grids need to become far more flexible than they are today, accommodating distributed power generation from renewable.
Comments
comments
Smart Grid Technologies in India

,