India's electricity sector faces a number of challenges:
Unremitting growth in demand for power, fuelled by the country's rapid economic growth and rising living standards.
Poor access to electricity in rural areas – Although the electricity grid reaches over 93% of urban inhabitants, just under a half of the rural population has no access to electricity.
Grid inefficiencies – Distribution line loss levels are the among highest in the world, averaging over 30%. The northwest of the country and rural areas are the worst affected.
Theft of supply – Electricity theft is an issue in all areas of the country.
Inefficient electricity usage, particularly in agriculture – Irrigation pumping is energy-intensive and accounts for a substantial proportion of all power consumption.
Poor grid reliability – Outages are frequent, due to aging infrastructure, poor maintenance, and demand outstripping supply.
Addressing these challenges requires investment in multiple areas. Ongoing government-backed initiatives include expanding traditional and renewable sources of power generation, upgrading the transmission grid, and improving rural electrification.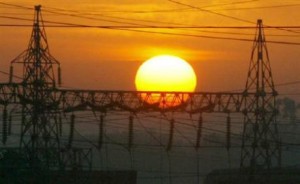 Under the XII Plan (2012−2017) the government plans to invest USD86.4 billion in extending the distribution grid. Distributed generation using renewable sources such as wind and solar will be important for bringing electricity supply to rural areas.
As a part of these plans for infrastructure improvement, India has an opportunity to leapfrog to the latest smart grid technologies. For this reason, we place India among a group of "Leapfrogger" nations that will seek to match their rapid economic growth with an accelerated pace of electricity infrastructure modernisation.
In 2010, the Ministry of Power (MoP) established the Smart Grid Task Force to coordinate smart grid activities in India. At the same time, the MoP created the India Smart Grid Forum, a consortium of public and private stakeholders, to accelerate the development of smart grid technologies.
The Smart Grid vision for India is:
Ending load shedding, by shifting peak load, through a combination of direct control and DR/DSM.
Reliable power, enabled by robust, self-healing systems. Improved monitoring is the first step.
Cheaper power and reducing grid losses.
Shifting the peak away from costly power, through improved asset utilization.
More sustainable power – integrating renewable sources to increase energy independence.
A series of working groups is addressing these objectives.
The MoP has allocated Rs 200 crores (USD44.3 million) for smart grid pilot projects. Distribution utilities can apply to the MoP for up to 50% of the total project cost.
Comments
comments
India Smart Grid Outlook

,