Will the India Smart Grid Market reach $ 1.5 billion by 2015?
According to the U.S. Energy Information Administration (EIA), 404 million people in India currently do not have any access to the electricity. In a new report, India: Smart Grid Legacy, Zpryme indicates that by 2015, India's smart grid market will be $1.9 billion as the country's basic electrical infrastructure needs will grow beyond, summing up to $5.9 billion in the same year.
"Smart Grid is not a luxury, but a necessity for India. Which is indeed true for developing countries like India, where more than 400 million people do not have access to electricity, and so, even minuscule efficiency can make a difference in having electricity or not" said by P. Uma Shankar, the Secretary of Power Ministry India.
"Smart grid technologies will help utilities in India optimize efficient energy use in distribution networks," Sanjay Seth, Country Manager for Itron India. "Currently there are pockets in India with surplus power that are unable to sell it to those with deficient energy supply, creating an artificial shortage scenario. Smart grid technologies can enable utilities to employ demand response mechanism, curtailing power at the time of shortages and helping avoid blackouts. Additionally, integration of renewable energy like rooftop solar PVs into the grid will add to generation capacity," he said.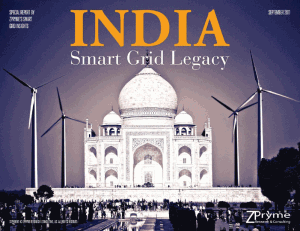 As suggested in Zpryme's new report, India: Smart Grid Legacy, the opportunity for growth necessitates a comprehensive, national grid will need to be developed before India's smart grid sector rivals the United States, Korea or efforts in Europe. At present, Smart Grid market in India is worth $1.1 billion and 16.3% CAGR growth is forecasted between the years 2011 and 2015. Most of the prominent technologists say that, "India has definitely had an opportunity to build the smart grid from scratch".
Comments
comments